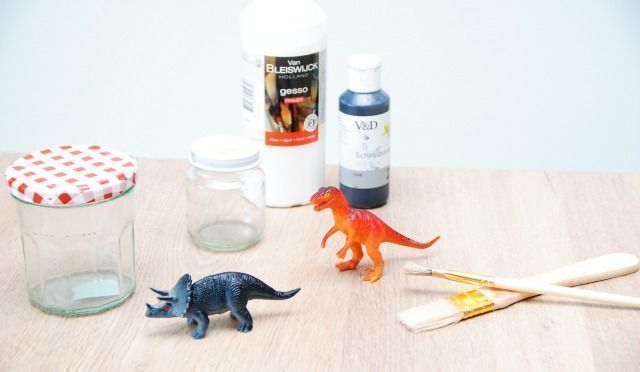 DIY Making Dino piggy bank
You get the idea by now, I think. Our little man is totally wild about dinosaurs. In addition, he has been busy saving lately. He regularly asks if he can do a job for a penny.
But all the money he earns has to go somewhere.
And what does your toddler want? Right, make a dino piggy bank. So I got to work.
DIY Making Dino Money Box
Little man has been busy saving for a few weeks now. He starts to understand the concept of money a bit and likes to collect coins. Now he often does that in a tin he got from grandpa, but that tin can't be opened.
It is handy not to lose anything but it is also nice to be able to buy something with your (hard-earned) money.
What you need?
Glass jars with lids
Plastic dinosaurs (or other animals)
gesso (primer)
Brushes
Sponge
Paint
Glue
How to proceed?
Before you get started make sure the labels are off the glass jars and the lids are clean and dry. I first applied a layer of Gesso to the lids and the dino's. Gesso is a primer which you can buy very cheaply at Action.
This ensures that the opaque layer of paint stays on well. Also, it comes in handy when you want to paint the dino's in a light color. So they already have a good primer.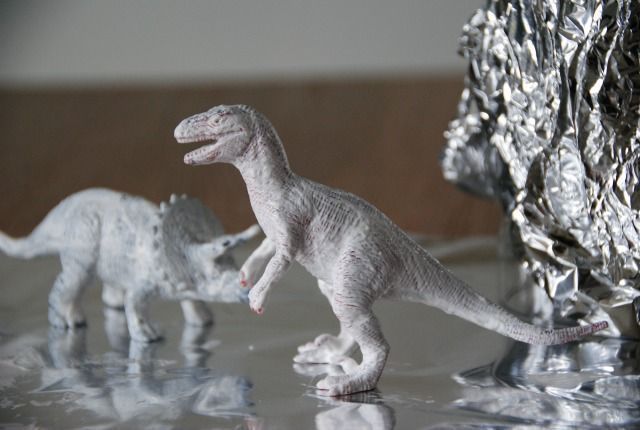 Let this layer dry well. I gave the dino's and lids two coats of Gesso. Just so I was sure the paint would cover well. Then I painted the T-rex and its lid a silver color.
I used Magic paint from the V for this&D.
This is a water based paint and can be used for anything. I painted the other dino and the lid black with water-based blackboard paint. All items I gave two coats so they are well covered.
Of course you let it dry between coats.
When you are completely satisfied with your paint job let everything dry overnight. This is important because otherwise the glue does not take well. After drying overnight I glued the dino's on their lids with Polymax of Bison. This is a very strong waterproof glue.
You could also possibly use a glue gun or even super glue.
Let the glue work dry before your child can put anything in it.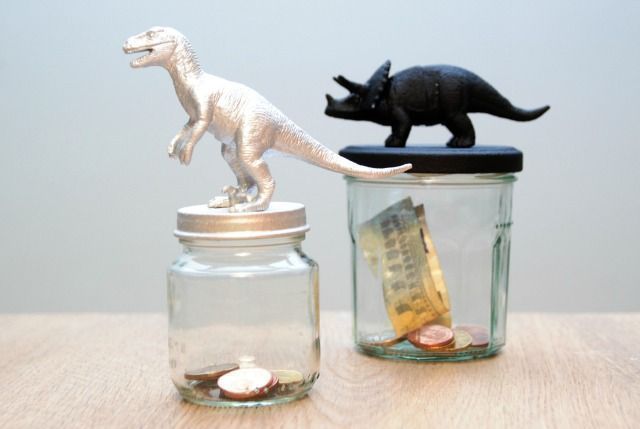 Et voila, your piggy bank is ready! I deliberately did not make a slot in the lid because then you quickly have sharp edges. That didn't seem like a good idea for a toddler.
So the little guy has to scorch the lid off when he wants to put something in it.
Did you know these pots maybe already from Pinterest? I wonder what you think of them.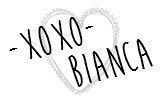 ♥ ♥ ♥ Fulltime Mama uses affiliate links. This means that if you click on one of the links, we may get a small commission on it. It costs you nothing extra, but it gets us something.
With these proceeds we can maintain this website. We also sometimes get paid for an article or receive a product in exchange for a blog post.
This leaves our opinion unchanged and honest. For more information please read the disclaimer. ♥ ♥ ♥