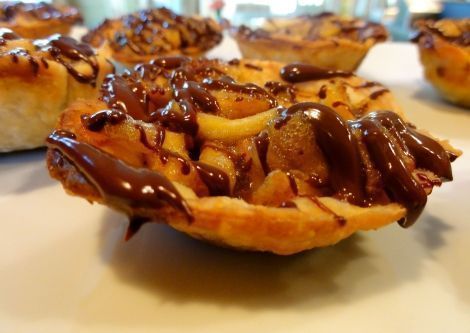 Chocolate apple tarts, great for Christmas
A tasty Christmas dessert that includes apple is sure to make them happy at home. Therefore, this delicious recipe of chocolate apple tarts that really aren't just for Christmas.
Christmas baking
How fun it is to cook and bake at Christmas time. Delicious desserts like syrup waffle pie with ice cream or how about a traditional apple pie? You'll make them happy.
Marlene apples
Marlene®'s South Tyrolean apples are ideal for baking. Think Christmas macaroons with Marlene filling. Or a Christmas dessert with apple and caramel or how about a delicious apple bread
This time I received the recipe from chef Marco Salmi to make chocolate apple tarts from Marlene® apples.
Birthday and Christmas dinner at school
Monday was our oldest son's birthday so I was busy with treats and cakes. On Wednesday the boys had Christmas dinner at school, so I was preparing satay and threading fruit onto skewers. So I haven't made the recipe below yet, but I didn't want to keep this from you.
Especially now – with Christmas coming up- tasty recipes of desserts are always easy. Marlene® apples came up with the perfect idea: delicious chocolate apple tarts decorated with caramelized apple . Red Delicious apples were chosen for this treat, as they are pleasantly sweet and aromatic.
Chocolate apple cakes with caramelized apple
Ingredients:
400 g dark chocolate with 75% cocoa
200 g butter
4 eggs
50 g cocoa
120 g sugar
2 Red Delicious Marlene® apples
For the caramel:
100 g of sugar
30 g of water
Preparation:
Beat the eggs and sugar with a mixer until frothy and compact.Melt the butter together with the chocolate in a pan or microwave oven. Do not let the mixture come to the boil.Let cool to room temperature. Now add the cocoa.
Mix everything well and don't let any lumps form. Then slowly add the mixture to the beaten eggs and gently stir everything together. Butter 8 to 10 baking tins with butter and sprinkle lightly with flour. Peel 1 the Red Delicious Marlene® apple and cut it into small cubes.
Not peeling and slicing the other apple.
Add the diced apples to the chocolate mixture and make sure everything is well mixed. Divide the mixture among the baking pans. Bake the tarts for about 30 minutes in an oven preheated to 160°C.
Check with a skewer that they are cooked before taking them out of the oven.
Mix 100 g sugar with 30 g water in a pan. Bring to a boil, stirring, until an amber-colored caramel forms. Dip the apple slices into the caramel and remove them once a thin layer of sugar has settled on the slice.
Let the apple slices cool on some oven paper.
Put the caramelized apples as decoration in the cooled cakes.
The best taste of South Tyrol
Marlene® is the symbol of quality fruit from South Tyrol from the Italian Alps. In addition, it is also the leading Italian brand in apple growing and apple varieties. Marlene apples are grown in an area of 10.700 acres by 5.000 producers and 12 cooperatives of the VOG Consortium, which is currently the largest organization for marketing apples in Europe.
Where to buy these apples
Marlene® apples can be purchased at fruit and vegetable stores. Should you come across them you should really try these apples. Marlene® has put together a special Christmas package.
This original gift idea includes a copy of each of Marlene®'s 7 apple varieties: Golden Delicious, Granny Smith, Royal Gala, Red Delicious, Fuji, Braeburn and Stayman. Each one with a different smell, a unique flavor and its own color to make the package even more cheerful. The apples in this package are all hand-selected.
We received this Christmas package and the apples were all incredibly delicious.
Soft, fresh and surprising taste.