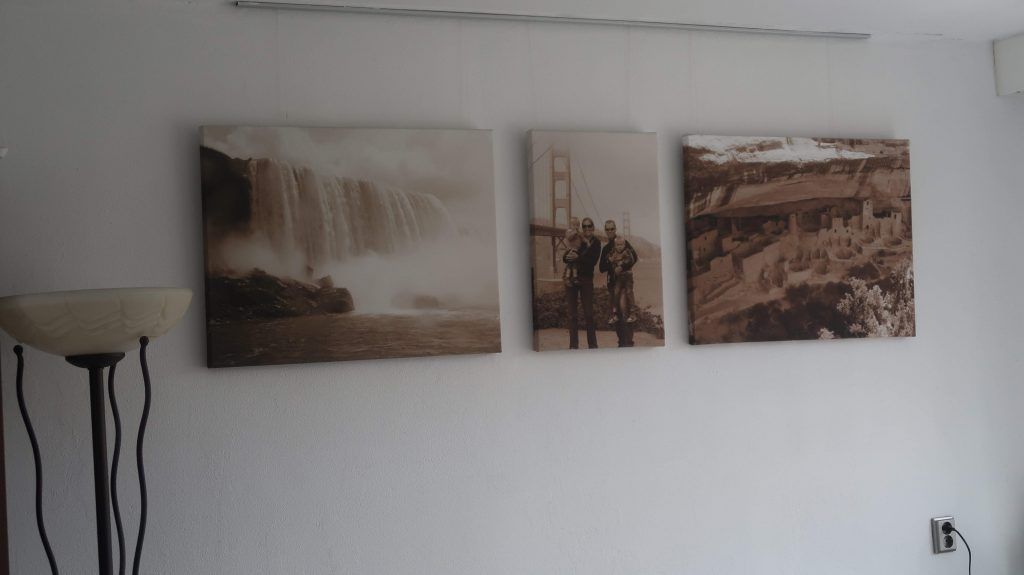 Simply brighten up your wall with a picture on a school board
What do you have on the wall hanging in the living room? And maybe you want something different? How about a school picture on the wall.
It's something completely different from the standard pictures you often see on the wall.
A long journey
In 2011 the husband and I took a sabbatical. We traveled with the boys for seven months through America and Canada. The boys were three and one and remember nothing of this. Only what they see in photos's.
Now there are still some pictures's of this trip hanging on the wall of our house. On one wall hang five sepia canvas canvases with the best pictures of the trip.
A bare white wall by the kitchen.
When we moved here over twelve years ago, there was a fine kitchen in the house. We were actually satisfied with the interior. However, after several years it began to irritate. Cupboards got old, the refrigerator was too small and we decided to buy a new kitchen.
We changed everything completely. Where there used to be cabinets, there was now a pristine white wall. Very nice in itself because it made it quiet in the house.
New photo on the wall
From my lazy spot on the couch I look at that white wall and more and more I thought;' beautiful, but I am missing something'. And then I got an offer to have a picture made on a school plate. Super nice and I immediately knew the right place for it.
Since downstairs in the living room we really only have some older pictures hanging on the wall'I decided to have a recent picture of the four of us put on a blackboard.
The result
I went to the site, downloaded the photo and immediately saw how the result would be. I chose exactly how I wanted it and then ordered the photo. After just three days I had the picture in the house.
It came in a big package and after unpacking it, I was so happy. What is the picture super cool. The colors are exactly like the original photo and looks very good on the wall.